MASTER UNIVERSITARIO DI SECONDO LIVELLO
«ICT MANAGEMENT»

Sviluppato dall'Università degli Studi di MIlano BICOCCA
con il Patrocinio AIEA, il Capitolo di Milano di ISACA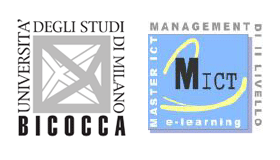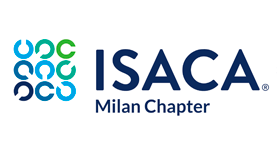 Iscrizioni entro: 2 MARZO 2018 – POSTI LIMITATI
Formula BLENDED e-LEARNING: 1 Weekend al mese + e-Learning on ed off-line.
Milano, Università di Milano-BICOCCA, da 28 Marzo 2018 per 15 Mesi.


LA QUOTA DELL'ISCRIZIONE AL MASTER E' INTERAMENTE FINANZIABILE CON I CONTRIBUTI DI INDUSTRIA 4.0
Frequenza ammessa anche a Professionisti senza i requisiti di Laurea ma con una qualificante esperienza professionale in ambito IT o Information Management.

Possibilità di iscriversi anche a corsi singoli.
Questo Master è stato progettato per persone che ricoprono, o aspirano a ricoprire ruoli manageriali nell'ambito di imprese di servizi IT, e/o nella direzione IT delle aziende di ogni settore e dimensione. Frequentando il Master sarà possibile acquisire le competenze necessarie a 360 gradi per valutare e gestire tutti gli aspetti connessi sia all'operatività day-by-day che ai progetti più strategici che coinvolgono i processi, i servizi e le tecnologie ICT in aziende complesse.
1 PERCORSO MULTIDISCIPLINARE COMUNE:
Percorso di formazione multidisciplinare comune di livello executive su quattro aree di competenza:
Tecnologica + Organizzativa/Manageriale + Economico/Legislativa + Comunicativa.
PERCORSO DI SPECIALIZZAZIONE PERSONALIZZABILE AD HOC:
Ogni partecipante potrà scegliere come personalizzare il proprio percorso di specializzazione scegliendo fino a 15 tra i 21 corsi disponibili, secondo un approccio Taylor Made molto innovativo.
4 CERTIFICAZIONI PROFESSIONALI RICONOSCIUTE A LIVELLO INTERNAZIONALE:
I corsi del Master preparano ed abilitano i partecipanti a sostenere gli esami ufficiali di:
- Project Management del
PMI: CAPM
(Certified Associate in Project Management), o PMP se in possesso dei requisiti minimi di esperienza.
- IT Governance di
ISACA: CGEIT
(Certified in the Governance of Enterprise IT) e
COBIT5 FOUNDATION
.
- Digiatl Competences di
AICA: eCF Plus
(International e-Competence Framework).
In un contesto competitivo governato da sovrabbondanza e pervasività di Tecnologie, saperne capire l'opportunità e l'applicabilità per il Business della propria azienda e saperle gestire in modo efficace interagendo tra molteplici player interni ed esterni è un fattore imprescindibile: questa sfida richiede manager con competenze di alto livello e multidisciplinari: tecnologia, managerialità, presidio degli aspetti economici e legislativi, abilità comunicative.


PROGRAMMA IN PILLOLE:
CONOSCENZE TECNOLOGICHE
Cloud Computing
Cybersecurity
Data Analytics
Enterprise Social Network
ICT Governance
IoT
Network Services
Quality Management


CONOSCENZE ORGANIZZATIVE E GESTIONALI
Business Project Management
Change Management
Project Management
Knowledge Management
Risk Management
Social Marketing


CONOSCENZE ECONOMICHE
Budget, Reporting e Business Plan
Cyber Law
ROI and IT Investments
Strategic Management


ABILITÀ COMUNICATIVE
English for Project Presentations
Presentationand Communication Tecniques
Team Building and Team Management