MASTER UNIVERSITARIO DI SECONDO LIVELLO
«ICT MANAGEMENT»

Sviluppato dall'Università degli Studi di MIlano BICOCCA
con il Patrocinio AIEA, il Capitolo di Milano di ISACA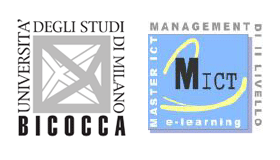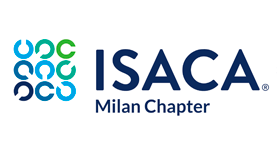 Iscrizioni entro il 29 SETTEMBRE 2023
Milano, Università di Milano-BICOCCA, da Ottobre 2023 per 15 Mesi.
Disponibili 4 borse di studio INPS-SNA a copertura totale del contributo d'iscrizione al master.
Per le iscrizioni pagate dalle aziende: copertura fino al 70% delle spese attraverso le agevolazioni in credito d'imposta per il bando FORMAZIONE 4.0 previste dal Piano Nazionale di Transizione 4.0 (Vedi link)
Questo Master è stato progettato per persone che ricoprono, o aspirano a ricoprire ruoli manageriali nell'ambito di imprese di servizi IT, e/o nella direzione IT delle aziende di ogni settore e dimensione. Frequentando il Master sarà possibile acquisire le competenze necessarie per valutare e gestire tutti gli aspetti connessi sia all'operatività day-by-day che ai progetti più strategici che coinvolgono i processi, i servizi e le tecnologie ICT in aziende complesse.
Il Master è erogato con Formula BLENDED E-LEARNING: 1 Weekend al mese in aula + e-Learning on ed off-line.
Il Master è frequentabile anche interamente da remoto.
il master prevede un Percorso di formazione multidisciplinare comune e 2 aree di specializzazione sulle competenze di
IT GOVERNANCE e IT Project Management
PERCORSO DI SPECIALIZZAZIONE PERSONALIZZABILE AD HOC:
Ogni partecipante potrà scegliere come personalizzare il proprio percorso di specializzazione scegliendo fino a 15 tra i 24 corsi disponibili, secondo un approccio Taylor Made molto innovativo.
8 CERTIFICAZIONI PROFESSIONALI RICONOSCIUTE A LIVELLO INTERNAZIONALE:
I corsi del Master preparano ed abilitano i partecipanti a sostenere gli esami ufficiali di:
PROJECT MANAGEMENT:
PMP (Project Management Professional) di PMI.
Agile Scrum Master di APMG / Professional Scrum Master di SCRUM.org;
EPM (European Project Manager) Professional di AICA, riconosciuto ACCREDIA;
devOps Foundation;
IT GOVERNANCE
CGEIT (Certified in the Governance of Enterprise IT) di ISACA;
COBIT2019 Foundation di iSACA;
ITIL4 Foundation di AXELOS;
CRISC (Certified in the Risk of Information System Control) di ISACA;
POSSIBILITA' DI FREQUENTARE IL MASTER DI PRIMO LIVELLO DIGITAL LEADERSHIP per i professionisti non in possesso dei requisiti per partecipare al Master Universitario:
Chi è in possesso di Laurea di primo livello (laurea breve) ed una comprovata esperienza in campo ICT potrà partecipare al MASTER DI PRIMO LIVELLO DIGITAL LEADERSHIP direttamente collegato con il Master ICT Management con il quale condivide una selezione degli insegnamenti.
In un contesto competitivo governato da sovrabbondanza e pervasività di Tecnologie, saperne capire l'opportunità e l'applicabilità per il Business della propria azienda e saperle gestire in modo efficace interagendo tra molteplici player interni ed esterni è un fattore imprescindibile: questa sfida richiede manager con competenze di alto livello e multidisciplinari: tecnologia, managerialità, presidio degli aspetti economici e legislativi, abilità comunicative.


PROGRAMMA IN PILLOLE:
FONDAMENTI
Cloud Computing
Cybersecurity
Enterprise Social Network
Internet of Thinks and IIoT
Knowledge Management
Network Services
Social Marketing e CRM
Team Building and Team Management
IT Strategy, Budgeting e Financial Management
Risk Management, Business Continuity e Disaster Recovery
Cyber Law e impatti IT
Digital Trasformation, Trasparenza e Dematerializzazione


PROJECT MANAGEMENT
Quality Management
Business Project Management
Project Management
Agile e Scrum Project Management
DevOps e SW Developement
Communicazione tecnica and Business Analysis


IT GOVERNANCE
ICT Governance
ITIL/IT Service Management, ERP
Change Management
Data Governance
Data Analytics
Metriche e KPI di IT Governance e Cybersecurity
Process Assessment Model e COBIT2019